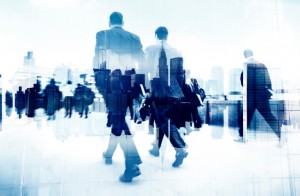 Buyer Personas have become the latest buzz for B2B marketers; you either love them, loathe them or fall somewhere in between. Mostly, from what I've seen, where marketers fall on the scale between love and loathe has to do with a couple of things:
I've written and spoken a lot about those things, but one thing I'm getting asked more and more is about the different types of personas. Mostly the questions fall into two categories > what makes them different and how do each of them apply?
So let's take a look at the variety of B2B Personas that could be helpful to marketers depending on the initiatives they undertake. This is by no means an exhaustive exploration, but rather an overview of possibilities for B2B marketers to consider; all of these potential B2B personas may not be relevant to you.
Buyer Personas:
What: A composite sketch of a segment of your target market designed to help brands align with buyer's needs and priorities to build engagement that results in a profitable relationship
When: From pre-sales through the decision process to validation and purchase
Why: To build relationships based on expertise and authority that helps buyers see your company as a mentor and the best choice to solve their problem or capitalize on an opportunity.
Customer Personas:
What: A new look at the status quo of a buyer who has become a customer and how their situation has changed since they solved the original problem with your help. What's new? What's next? What can they do now that they couldn't do before and how does that change what they need to know for what's next?

NOTE: Customer personas can be an extension of buyer personas, but often are not. Once the decision has been made, who's in charge of your product? It could be someone who was an influencer during the buying process or someone totally different, such as a project manager.

When: From onboarding to implementation to retention and renewal, as well as referral
Why: To ensure that the customer receives even more value than the buyers thought they'd get when they decided to buy from you
User Personas:
What: These personas are based on the people who actually use your product or solution on a day-to-day basis. They may not be the decision makers, but their success and use of your product will be key information when renewal time comes around. Their interests in relation to your product are also a lot more feature focused than most other personas.
When: From onboarding to implementation to escalating expertise to retention and renewal, as well as referral
Why: If your product or solution becomes "shelf-ware" retention and renewal are lost and your customer relationship derails
Partner Personas:
What: A composite sketch of your ideal partner to help you attract the most profitable business relationships based on mutual goals and complementary competencies or expertise. Partner could also mean VAR, depending on your business.

NOTE: Including strengths plays in this persona. What do you expect your partners to bring to the table? Additionally, a partner persona can help marketers coordinate partner / channel marketing programs that work with mutual benefits for both sides.

When: Partner recruitment and partner relationship management
Why: Possible partnerships abound in your market space. A partner persona will help you sift through the possibilities to align with the partner relationships that bring the most value based on your company's business objectives.
Advocate Personas:
What: A composite sketch of people who—of their own volition—share, refer and promote your company (content). Among the questions to answer for this persona are: What traits do they have? What compels them to do so? What value do they get in return?

NOTE: An advocate is not necessarily a customer.

When: To generate (or in response to) endorsements, mentions, shares, testimonials and other social media (or media) postings made by these people (or companies) on your behalf
Why: To build authority and trust with a larger audience – expand your reach and enhance brand reputation and sentiment
Influencer Personas:
What: A composite sketch of people with influence in a market or industry you serve who have demonstrated expertise in a topic or area of the industry that carries weight with your prospects and customers.
When: Helpful at every stage of the buying decision process, as well as for customer retention and loyalty
Why: Targeted awareness and reputation play to build / reinforce (through association) your trust, expertise and authority with your target audiences / personas.
Employee Personas:
What: This is likely not one simple persona, but one with pivots for different roles or departments within the company and their engagement and use of social media platforms.
When: As your brand story evolves in relation to the personas they are most inter-related with based on their roles and responsibilities. Communication is the key here: not just making them aware of the story and content, but helping them share it appropriately
Why: To help employees build personal brands and support the consistency of story you're sharing with an audience that matters most to the employee in relation to who the company serves.

NOTE: The employee persona is also helpful when communicating about a new product launch or other internal developments where employee knowledge is power.
Executive Team Personas:
What: Individual personas based on who needs to be convinced about content marketing program initiatives or advised on their performance. Additionally, these can be employed similarly to employee personas, as appropriate.

NOTE: I've helped marketers do these types of personas to get buy-in for content marketing programs based on what was most important to their executive team. But these personas can also help marketers understand how to measure and report on performance in a way that resonates with the different perspectives that make up the executive team.

When: As your reporting process dictates, or internal initiatives require
Why: To earn budget approvals, green lights for programs and the respect of the executive team
Sales Personas:
What: Composite sketches of the different roles on the sales team to help marketers develop an understanding of what the sales team (salespeople, sales managers, account managers, sales engineers, inside sales, and sales operations roles) need to know in order to utilize the story, messaging and content marketers make available in order to have more productive conversations with prospects and customers.

NOTE: Based on role, what each needs can be quite different. How does each role utilize content? At what stages to they interact with prospects or customers? Where are they running into obstacles in forwarding the deal?

When: As appropriate, but theoretically at all stages of the prospect to customer relationship
Why: Marketing's goal is to drive sales. In B2B that usually means there will be a salesperson involved. If the story marketing tells is different than the story sales tells there can be a disconnect that derails deals and makes customers question whether or not to renew or buy more.
Relevance is a major contributor to the effectiveness of B2B content marketing programs. Heck, I wrote an entire book about it. B2B personas may seem overwhelming, but once you get the knack of searching first to understand the audience in relation to whatever initiative you're pursuing, your program's performance will rise exponentially.
And, what makes the idea of creating a variety of B2B personas even more compelling are platforms, such as Cintell's customer intelligence platform, that make creating, using and maintaining personas across the organization a simply more effective and informed input to the process of building better relationships. (Disclosure: I'm an advisor to Cintell)
Have you stretched beyond buyer personas yet for your other-directed content and communications initiatives?