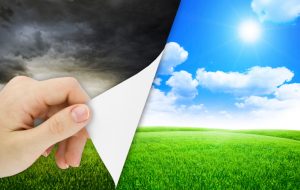 What do your B2B buyers' see?
Until you can see what they see, you cannot create the conditions for change.
But once you understand buyer context, you can solve a problem in perspective that they didn't recognize they have.
Why does this matter?
Because if you try to tell them they're wrong, they'll just dig in their heels. Think about when you've gone and done the exact opposite of—or resisted doing—what you were told to do.
See what I mean?
Instead, when you understand where your buyers are, you can create a shift that helps them start to see things a bit differently, because what you're saying is based on a "truth" that already exists for them.
The Problem is Lack of Buyer Context
Marketers don't know their buyers' context. We don't dive deep enough to get to our buyers' truths.
What we forget is that we've bought into what our company is selling. We "get" it. If your buyers were where you are, they'd be customers by now.
We focus on how we think our products align to what our buyers need. But this won't sway them. Buyers don't care about your products. What they want is a simple, straightforward way to do something they either can't do today or that's become too painful to keep on doing it the way they've always done it.
For those of us who sell outcomes based on a complex sale, we really need to embrace simplicity and clarity. Small steps. Small shifts based on what your buyer already sees to help them see it a bit differently.
The less effort, the less of a stretch, the better.
Marketers love to tout the big ROI numbers our customers get. The problem is with the visualization for those who have no idea it's true or what that might look like.
We say something like, "productivity increased by 40%." But what does that mean? In the context of what? How was it proven?
Instead, if we say something like, "when using our solution, helpdesk teams find they can cut 3 steps out of a 10-step process, reducing ticket resolution time by 3 hours" – now your prospect can visualize what you're talking about.
And if what they see is their helpdesk team overloaded and users complaining about the wait time and they're getting pressure from their boss to step it up, then you've got something that will engage them.
Complex Buying Processes Require Small Shifts
When you're working on mapping out your content marketing strategy, start with the action you want them to take and then back into it. If your buying cycle is 6 months, buying is obviously not the shift you're looking for out of the gate.
If you go back to the example above, the next step might be for the buyer to download a case study that relates to the example. It could be to read your guide on helpdesk process improvement. Whatever it is, it should play to what they see today and start to help them shift their thinking.
The idea is that if you understand their context in viewing the problem they're trying to solve; you can build off that interest in helping them get what they want – in this case a more efficient helpdesk. The truth is that they're not likely to un-want that outcome. As long as you tie your ideas to something you want, you'll gain a foothold.
By linking your ideas to where they are, you've now got the foundation to help them start to see differently. It's not about telling them they're wrong. It's about showing them how they can be better in a way they can relate. Without a lot of effort.
And that's what it takes to get the conversation started. Continuing this engagement requires that you lay out the small shifts in change that your buyers need to accept in order to buy. Asking for big swings doesn't work. It's overwhelming. But showing them systematically how one step leads to the next (their questions, your answers) allows you to help them adopt your ideas as their own.
That's the key to compelling the decision to buy.
Buyer Personas are the Key to Buyer Context
Understanding the foundation to build on to create engagement that sticks lies in understanding your buyers. The best way I know to do this is to talk to your customers and document those insights based on problem-to-solution pathways. And that results in well-constructed buyer personas that give you the depth you need to create content that resonates.
Relevance is in the eyes of your audience. And that's not you. I often hear marketers evaluate ideas for content based on what resonates for them. This is because they have no other yardstick for buyer context. Personas give you that yardstick to determine if your content levels up.
And this will only happen if you can see what your buyers see. Buyer personas are the tool that expands visibility into what matters to the buyers your content is aiming to engage.