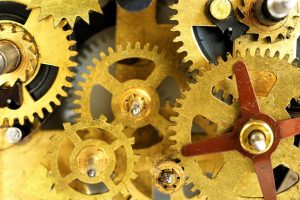 The intent to expand content marketing strategy and tactics is in every B2B marketing survey. B2B marketers plan to create more content, spend more on content marketing, increase the number of channels for content distribution, and add more technology to their marketing tech stack.
Yet content marketing effectiveness continues to decline, even while spending goes up. Heck, even though the majority (63%) of marketers are committed to content marketing, 59% don't know what a successful content marketing program is.
Certainly, content is the fuel needed to attract, engage, and convert B2B prospects. Content serves as the champion of your company. Consistency in tone, voice, and style is critical for meeting your customers' expectations.
But the Global Content Impact Index, Technology Edition finds that only 36.4% of companies maintain consistent content scores across the various types of content on their websites. Financial Services companies fared a bit worse at 33.3% consistency with their content.
We can no longer approach content marketing as an ad hoc task and produce the results expected by the organization.
Improvised content was acceptable a decade ago when an open playing field contained little competition for audience attention. Today you need structure, strategy, and discipline to succeed with content marketing.
A content operations function negotiates the gaps in your strategy and supports content marketing to achieve consistent quality at scale. Content operations addresses the new frontier that B2B marketers must conquer to improve content marketing effectiveness across the organization.
Here's one example of the value of content operations:
McKinsey found one global company that created a center of excellence for content operations and so was able to establish transparency, new governance, and improved processes across the organization. These changes cut the time to produce content, halted the 25% growth in costs the company saw year after year and brought discipline to managing the impact of content. The result: marketing ROI improved by more than 20%.
The takeaway: You can either continue to use hope as a strategy, or you can take action to improve the value content marketing delivers as a profit center that benefits the bottom line.
Content Operations Gives Your Content Marketing Strategy Legs to Stand On
You've probably heard the three-legged stool theory: People, processes, and technology are all needed to produce optimal outputs. In the case of content marketing, the strength in the legs of the stool comes from content operations.
When you consider the challenges content marketers face today, the costs incurred by not having a steady stool to balance your content marketing strategy can be higher than they would otherwise be. Let's take a look at a few of the challenges in people, processes, and technology that content operations helps B2B marketers solve.
People Challenges
Collaboration
Content marketing has many inputs, from writers and editors to graphic designers, social media, SEO, and more. Collaboration is essential to ensure the visibility and coordination on which content gets developed for specific audiences and to meet specific goals.
Unfortunately, many factors hinder team collaboration: marketers are too darn busy; the work culture doesn't promote collaboration; teams don't know they should be collaborating in the first place. Content operations can put people in touch through the development of processes and workflows.
Ownership
Many B2B companies conduct content marketing in silos of departments, and the various teams never speak with each other (see collaboration above). In other words, no one person or function administers content marketing. When each team creates content based on their preferences, pretty soon your brand experience resembles an encounter with Dr. Jekyll and Mr. Hyde.
Centralization that comes with content operations solves the inconsistency problem. A content operations function determines who owns and oversees content. A centralized strategist establishes workflows, processes, standards, and governance procedures. Moreover, this unity builds consistency in voice, tone, and style.
Taking steps to establish ownership also serves to install content marketing as a valuable company asset with the intent to run content marketing as a business, rather than as an ad hoc task. But ownership also calms the chaos by defining how to say, "no" to ridiculous content requests from across the organization. And this discernment means more efficiency and effectiveness in content ideation, production, and execution.
Process Challenges
Planning
As Antoine de Saint Exupéry says, "A goal without a plan is just a wish." Coordinated workflows and processes are vital to ensure that teams address dependencies in content creation in the order needed and that content production flows smoothly. Off-the-cuff content development adds time, costs, and missed opportunities. Creating content is only part of the function. Content must also be distributed and, yes, marketed to the right audiences to put the ideas in play.
Redundancy is also an offshoot from lack of planning. Research from a few years ago found that companies wasted $0.25 of every dollar spent on content. We also consistently see a massive statistic that 70% or more of B2B content goes unused. Plan content initiatives based on content marketing strategy informed by buyer personas, behavioral analysis, and engagement data, and map these initiatives against organizational goals. Such planning and mapping can mitigate the risks.
Workflows
Once you have your plan in place, a content operations function will establish centralized workflows that move each content asset from inception to production and distribution. Workflows disperse responsibilities across teams.
It's not as simple as assigning a writer the task of creating a blog post. Subtasks may include identifying keywords for SEO, interviewing SMEs, developing graphics, and more. Each member of the team not only needs to know what they are required to do but also when their contribution is due during the content lifecycle.
Content operations will instigate these workflows but also serve to refine them as teams become more proficient at collaborative work.
Technology Challenges
Analytics
B2B marketers know analytics are critical, but many marketers struggle to use them effectively. This inefficiency leads to costly missteps, such as creating content on topics that haven't performed well in the past or continuing to publish to channels that don't draw the right audience back to your site.
On the campaign side, if analytics only originate from vanity metrics, such as clicks and views, your content team could continue to publish content they think is effective when it's not creating an impact on business objectives.
A content operations function establishes defined metrics used across the life cycle of content and aligns those metrics with goals and desired outcomes.
Point Solutions
According to Chief Martec, the marketing technology landscape grew by 40% in the last year to a total of 5,381 solutions. Many content marketing teams only use some of the features available to them in the technology they select. How many of you are using your marketing automation platform as a glorified email blaster? I thought so.
B2B marketers also often haven't integrated their tools of choice, so teams jump back and forth among the tools and manually compile results in spreadsheets.
And yet another snag is that the technology in use varies across divisions of the company, with each department using the tool sets they prefer. This discrepancy impedes visibility along with overall effectiveness in establishing a valuable and consistent audience experience.
A centralized content operations function serves to consolidate technology, but also to create a center of excellence for best practices on how to use content to optimal benefit. As marketers take more responsibility for the entirety of the content life cycle, the proficient use of technology can be a great enabler—from behind-the-scenes planning platforms to publishing and analysis tools.
The Time for Content Operations is Now
Disruption is the word of the day. You see the reports that show more and more content marketing teams are held accountable for contributing to revenue. Even account-based marketing challenges B2B marketers to evolve their approach to sales enablement and contribute to pipeline velocity. To transform, we need to up our game.
Content operations can make this change happen. But, more importantly, it will contribute to reducing costs and enabling efficiency in scaling our content marketing initiatives. There's no time to waste. I urge you to take a serious look at creating a content operations function as a step on the path to turning marketing into a profit center. It is possible.
Originally published on Marketeer by Kapost