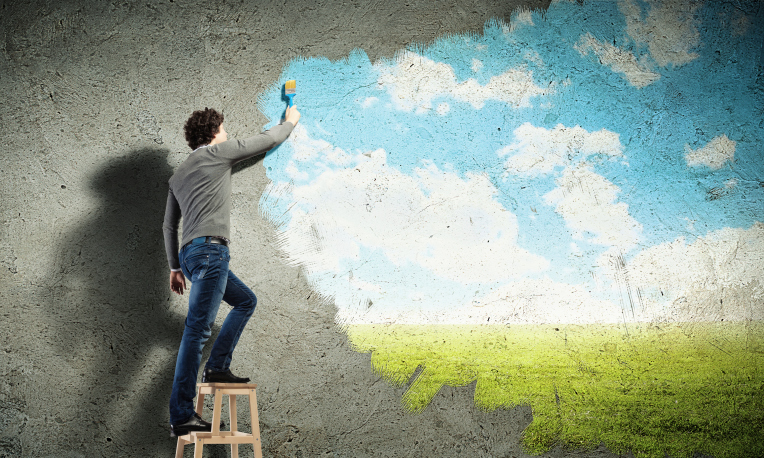 I'm hearing a lot of assertions about the B2B buyer journey. The challenge is in how much nuance people apply to what's said. I'm thinking about the differences between what your buyers experience with your content and brand (outside), and what it takes to create successful buyer-driven experiences (inside).
As buyers have become more self-reliant, it feels like marketers are reaching too far toward giving buyers what they think they want and, in their quest to engage them, foregoing strategy. The problem with this is strategy lurks behind the scenes as the scaffolding that holds up buyer-driven experiences.
Without strategy, all you have are random acts of content. Sure, you may get engagement on a one-off basis, but unless your sale is transactional, you're also giving up the depth required for a complex sale.
Here are three assertions I've seen lately:
The buyer journey is no longer linear, so content won't map to buyer stages
Content should be helpful for both customers and buyers…everyone consuming it
Marketers have no control over the buyer's journey
On the surface, it's a knee-jerk reaction to nod in the affirmative at these assertions. They "feel" true. Some of them have been said by influencers and lauded by marketers looking to simplify the disruption and change with buyers that ramp up the pressure on program execution and performance.
But dive down a bit into what they mean in application for both the inside and outside of buyer-driven experiences and you'll start to see a few potentially fatal flaws.
So, let's dive in…
1: The buyer journey is no longer linear, so content won't map to buyer stages.
The first part of that statement is true. I agree. I've seen it and continue to see it morph into ever more confusing loops and detours as new channels come online, uncertainty increases with impending economic challenges, supply chain disruptions—you name it, the challenges continue to shift how buyers approach buying.
In addition to environmental challenges, buyers have changed. Many Millennials are now involved in deciding. And their preferences are different than those who came before them. But the older buyers are also still in the game, and many are taking cues from their younger counterparts. The number of touchpoints has increased (up to 27 per person, per Gartner) and only 3% want to speak to your sales reps for education.
Because buying is a 2nd job, they also jump in and out of buying activities making it tougher to pin down just where they are in their buying process—or even if they are actively in-market buyers. Dark social is in full play. Buying committees are growing again adding more dynamics and a lack of visibility to where they are in the process.
It sounds like I just made the case for the first assertion, right?
Not so fast.
Just because buying isn't linear doesn't mean that buying stages don't apply. If not for them. For you.
Buyers don't wake up in the morning and say, "I'm in the consideration stage." Buying stages are an inside job. We created them to help us. But we ended up foisting these stages on our buyers. Wrongly.
Buying stages are a useful construct for strategic planning. They help us on the inside in many ways, including:
Identifying gaps in the story our content shares
Indicating the difference between interest and intent
Helping us identify Step Backs – more than ¾ of buyers will return to earlier-stage learning to re-validate as they acquire new knowledge
When you're planning the story you'll share across the buying process, you need to map it to something. Without a framework, how do you interpret behavior and transitions?
For example, a buyer who reads an article to learn what a platform for a specific category is has a different context than a buyer who engages with content about how to get their users to adopt it.
Remember that buyers don't want to talk to your sales reps until they know what they think they need to know to move forward. They'll get the information somewhere. It's better for you if you're the source.
You need a way to know you've got the complete story.
This has nothing to do with how you choose to present it or distribute it to create the experience your buyer will choose to engage with. It's a guard against random acts of content that frustrate buyers because there's no plan for what they need to learn or do next.
Inside vs. Outside.
2:  Content should be helpful for both customers and buyers…everyone consuming it
This assertion just tends to aggravate me. It's the equivalent of tossing relevance into the wind to see if we get lucky. Bad idea.
I could state all the stats from buyer research that tells you what they want. But you know this…right?
From a buyer's perspective, relevance is about matching their context in relation to solving the problem.
Here's what I want you to think about with this nonsense about one-size-fits-all content. There's no way one content asset can meet everyone's needs. I hear you. It would simplify our lives if it could, but it doesn't work that way.
Here are a few reasons why:
Different roles are on the buying committee, each with their perspective about the problem and how solving it (or not solving it) will impact them and their team.
A user and a leader have two different perspectives. For good reason. A content asset that engages a user will not usually engage a leader. And vice versa.
Customers and buyers each have a different context. Presumably, your customer has solved the problem your buyer is still grappling to understand and solve.
Think about the structure of content. For simplicity, let's say it flows like this:
Enticing headline or title that evokes interest
Premise or hook at the beginning about what they'll learn
Middle supporting points to make the case
Conclusion that ties back to the premise
If you lose them at hello (headline or premise), game over.
Once again context and relevance win the day. Content meant for everyone served no one.
In this case, the inside view is rationalizing congruence that doesn't exist for both buyers and customers.
From the outside, being continuously served content that misses on relevance is why emails get sent to the junk folder and your competitors with a better story plan and experience win interest and intent.
3: Marketers have no control over the B2B buying journey
I flat out disagree. This is our job as mentors to our buyers who need to see themselves as the hero of the story of solving their problems.
This one is fairly simple—or should be. If we intend to help our buyers, but our buyers are intent on being self-reliant, only they don't know what they don't know, then our job is to provide guardrails that guide them toward making the best decision.
If you've ever read review sites and noticed when customers say, "I wish I'd known X before making this decision," that's what I'm talking about. Recent research from Gartner finds that 56% of organizations said they had a high degree of purchase regret over their largest tech-related purchase in the last two years.
Even more interesting is the finding that 67% of people involved in technology buying decisions are not in IT.
Read that again.
This results in buy cycles that take 7 to 10 months longer, more frustration, wasted time, and higher regret.
Per Hank Barnes, "In this environment, a new technology adoption chasm is emerging. This new chasm divides organizations that are confident adopters and buyers of technology from the vast majority that are not."
Yet another reason why understanding your buyers is so critical in a world where they don't want your help but also lack confidence, experience, and an understanding of what they don't know that they need to know.
That's the inside view marketers must have to serve as a guide and mentor during the buying process. This also holds true for sales. And it's the reason marketers need buyer intelligence and to provide sales enablement to sellers to ensure a continuous and connected experience from end-to-end for buyers.
The outside view is to make it look simple, intuitive, and comprehensive without weighing them down. In other words, not at all what it looks like on the inside.
Two Views – One B2B Buyer-Driven Experience
Never let them see you sweat. In a past life, I ran a country club. The revenue of a semi-public club depends in a large part on events. I can't tell you how many weddings, fundraisers, parties, and tournaments I oversaw during those years.
They were never perfect. They involved humans. There was a lot of trauma and drama that luckily was never seen by the guests. What goes on behind the scenes stays behind the scenes.
That's the difference between inside and outside. Understanding what your buyer needs and giving them just that in a way that guides them to the outcome they want.
Marketing and selling can thrive in this inside-outside environment. But it takes applying the right perspective to each side. Inside vs. outside is how marketers can reach the nirvana of the right time, right channel, and right message.