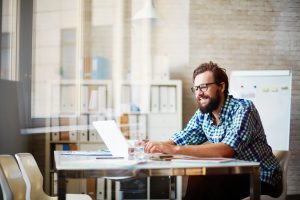 A good customer experience must be relevant. According to Forrester Principal Analyst Mary Shea, "Your buyers want contextual interactions with both human and digital assets across a holistic, but non-linear journey."
As I stated in my book, Digital Relevance, "…a process for continuous improvement will enable your marketing team to tweak and refine strategy progressively to keep your brand relevant in the face of change."
Unfortunately, the following recent research findings indicate not a lot has changed since I wrote my book four years ago:
The state of this lack of relevance in marketing content has 71% of marketers saying that less than half of their content is consumed. I could go on, but I think you get the point. It's beyond time for B2B marketers to buckle down and do the work needed to become and stay relevant with their prospects and customers.
Context: The Cornerstone of Relevance
There's not a doubt in my mind that marketers know that everything they do—every program, email, content asset, social media post and idea—needs to be relevant. The conflict is in what the term "relevance" means in application. From a marketing perspective, context is the set of facts, meaning or circumstances that define a prospect or customer's intentions or needs in relation to an interaction or experience.
Context amplifies the relevance of digital marketing to create profitable engagement. The challenge is in how marketers can develop the skills and shifts to mindset that will improve their level of relevance. As relevance maturity is reached, context will be addressed by extension. This is the framework for relevance.
The Relevance Maturity Matrix (RMM)
There are four quadrants in the RMM; irrelevance, shifting relevance, social relevance, and radical relevance. It is quite possible—as well as likely—that enterprises with a number of marketing departments and the sales team can be in different quadrants of the matrix at the same time.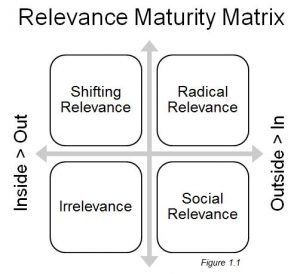 The RMM will be most effective if used as the standard to evaluate relevance across channels and the company to establish processes for continuous improvement specific to each area in relation to the quadrant it occupies on the matrix.
The least effective quadrants of the RMM are Irrelevance and Shifting Relevance. These two quadrants are based on an inside-out approach that puts the company and its products first. Most companies have departments that continue to function in these areas, if not all departments, perhaps making occasional forays into social relevance, but are unable to sustain the transition due to the lack of skills and mindset required.
An example could be a report created to speak to challenges faced by a target audience and shared with that target audience while at the same time sending out product-focused promotions to the entire database. The company's relevance increases with the report, but this relevance quickly regresses with the continued product focus in its communications.
Social Relevance is being achieved by some companies as they work to embrace an outside-in approach, putting their focus on customers first at the least in application to customer-facing interactions in social channels. Radical Relevance is the quadrant of mastery that we should aspire to achieve. Becoming radically relevant is achieved when marketing, customer service and sales have adopted the outside-in approach with commitment that matches capabilities. It is important to note that, as in all things, mastery is not once and done. It takes continual effort to stay at the top level of any skill.
The purpose of the RMM is to help digital marketers develop a culture of customer obsession that results in the level of relevance necessary to earn and sustain a competitive advantage in the markets your company serves.
Wouldn't it be wonderful if marketers could flip a switch and have their communications become so relevant that, when they talked, they commanded the interest that a new product launch at Apple attracts?
Becoming this relevant to your audience and building this type of credibility in your communities is what this book will help digital marketers to accomplish. Although flipping the switch may take longer than you'd like. Achieving relevance takes work, commitment and elbow grease and works best when approached as an iterative process. The reality of continuous change means that even if you reach mastery today, you'll have to stay on your toes to keep it.
The Relevance Maturity Matrix: Four Stages of Relevance
Irrelevance:
Being irrelevant is being beside the point, immaterial, unconnected, unrelated or inapplicable to what your prospects or customers care about. Irrelevance happens when companies are self-focused; when they care more about what they want, need, or think than what their customers want, need, or think. Scenarios of irrelevance play out every day. It's likely you are on the receiving end of many of them.
Shifting Relevance:
Relevance is a tricky construct. It's not something you can buy and own. Relevance is a skill that must be developed and honed both over time but also in response to real-time shifts in the market. Being relevant is a new habit that must be developed and committed to. As marketers work toward helping their companies to become a more trusted and credible resource in an environment where buyers have control, it's easy for vigilance to slip and shift back and forth from inside-out to outside-in with their messaging.
Social Relevance:
From a channel perspective, most marketers have confronted the reality that many of the new channels—if not based on social networking—certainly include an element of social. Even the corporate website now includes the capability to share content and comment on the company blog, if not elsewhere.
Social sharing options are also commonly included on email templates used for nurturing programs and demand generation. After email—most of a marketer's distribution strategy for published digital content is based on posting on social platforms.
As marketers have made the transition to digital marketing and, buyers have become more exacting and demanding, the shift from push to pull marketing has been more successful in some cases, than others. This is obvious from the number of posts on social media that are purely intended to be communications pushed or broadcast to audiences that are thought to be reachable through social platforms. However, this approach relegates marketers to irrelevance or, at best, shifting relevance in the RMM.
Social relevance is based on conversational competency. Rather than a broadcast approach which is based on traditional "push" methods, social relevance is about context and idea expression. Conversational competence is the difference between posting a title with the link to a blog post without any additional context vs. posting a relevant reason for your audience to read the post with a link to it, for example.
Radical Relevance:
Radical relevance occurs when marketers have reached the point of customer obsession along with the skills required to apply it strategically and maintain it tactically—even as prospects and customers continuously change.
It is at this stage that digital marketing will reach its potential to drive sustainable and continuous business growth and influence the adoption of a relevance mindset across the organization. Naturally, the bar is set high. But it is within reach.
Marketing has changed more in the last two years than in the last fifty. Marketers' number-one concern is in their ability to reach customers. The RMM is designed to enable digital marketers to turn these concerns into confidence backed by capability.
Relevance Maturity Should Be a B2B Marketing Mandate
Quality content can be found in every medium and channel. It's no longer enough to move the needle.  B2B buyers crave meaning and connection—not just utility or value. This is a distinction that raises the bar for relevance and what marketers must achieve to create sustainable growth for their companies in the future.
Consumers and business buyers have similar opinions about vendor content – that it's less trustworthy, biased, and not a significant influencer across the buying process. This narrowing of perspectives shouldn't be surprising as it's always been there. What's changed is our ability to see how it plays out and the data and research that can now be conducted far and wide by companies, as well as the customers they serve.
Ascending the quadrants of the RMM is key to developing and executing a digital strategy that drives results and revenues. There is definitely a silver lining for companies that embrace building the skills and shifting mindsets to enable the achievement and sustainability of the highest levels of relevance: buyers want to buy, and they want to buy faster than they do today.
*Please note that this post is largely sourced from Section 1 of my book, Digital Relevance, and has been updated in the few areas where change has been evident since the book was first written. There is much more depth in the book if you'd like to learn more about the Relevance Maturity Matrix, its stages and the skills you need to achieve maturity.