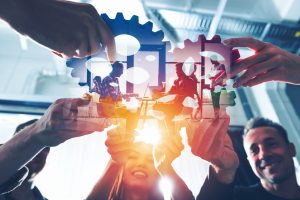 I just read a recommendation that B2B organizations should allocate 46% of budget to brand marketing and 54% to demand gen.
The reasoning is based on an estimation that at any given time, only 5% to 10% of customers are in-market for a category. This estimate is based on the finding that companies replace solutions, on average, every five years.
Therefore, brand building is defined as a long-term strategy that focuses on building brand awareness so when buyers become in-market your company is top of mind.
Demand marketing is said to be focused on short-term acquisition – those 5% – 10% of buyers currently in-market.
This confuses me. Why are the two concepts viewed as silos to be addressed separately?
If you're doing demand generation from a buyer-first perspective, I'd wager that it also serves as brand marketing.
But I see others breaking the marketing spectrum down like this:
Brand – awareness
Brand – interest
Demand – urgency
Demand – advancement
Demand – acquisition
This appears to be one stream, yet two teams.
But it functions better as an ice cream swirl cone, with the two concepts woven together. OK, it's hot and I'm hungry. But you get the idea.
After all – the story is the story. If it's not consistent from brand to demand, you've got a problem—and so do your buyers. According to Forrester, only 22% of B2B companies have fully integrated their brand and demand marketing functions.
Various research has drawn a line between the two. It goes something like this: Brand creative is "sticky." It builds lasting memory structure in the minds of buyers that will trigger when these buyers become in-market. They'll recall your brand favorably and you'll get added to their shortlist for consideration.
These lasting memories (mental availability) are considered a competitive advantage that long-term focus on brand gives you ahead of new companies without it.
These are all good arguments for brand marketing—if you discount all the top-of-mind marketing that adds no value.
I'd like to make the argument that the two are better together – as part of a whole. Without awareness and interest, there is no demand. Therefore, brand supports and activates demand while demand completes the virtuous loop of delivering on the promises made by brand interactions to acquire customers, thereby creating advocates that evangelize the brand. And repeat…
But this only works when there aren't glaring gaps between the two. It's got to be one, seamless story with smooth transitions only visible to you.
The Argument to Connect Brand and Demand
Maybe my issue with this is I've never considered brand and demand to be separate. If you look at The Continuum Experience I created back around the time I wrote my second book – 6 years ago – it's all one function. Marketing is present throughout the entirety. The need for this hasn't diminished.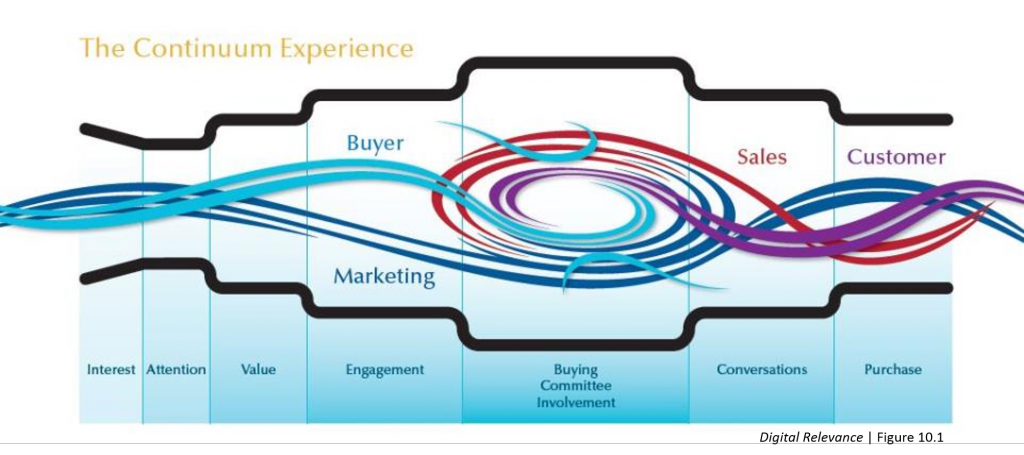 You can apply "brand" thinking and "demand" thinking to the entirety of the process. You need both.
Here are a few reasons why:
New buyers exist at both ends of the spectrum.
Of course, they exist as net-new customers. But they also exist within customers. In complex B2B purchases, quite often the buyer is not the user, project manager, or in charge of renewal. And, in many companies, the opportunities for cross and upsell may exist in different departments where awareness and interest in your company is (as of yet) non-existent.
This is often where ABM/ABX comes in. ABM is not brand marketing, but it needs brand marketing principles to activate experiences that move buyers to what are defined as demand stages.
Fame helps build buyer confidence.
Fame, defined as awareness at scale makes it easier and lends a sense of comfort for buyers in justifying buying decisions. But fame isn't just about high-level surface stories that brand marketing so often relies upon. I'd argue that social media and search play a big role in fame, as do buyer-driven stories that fall more in the traditional realm of demand. Fame plays a role across the entire continuum, not just up front. And confidence needs constant reinforcement at every stage.
There's another factor of rising importance that capitalizes on fame. Peer networking. If your buyer asks his or her network for their opinion, what will they say? Have they heard of you? What have they heard? Online reviews also fuel fame…or put it in question.
Audiences must be both broad and narrow.
It's important to consider buyer dynamics. Almost half of working professionals change jobs at least every 4 years. During that time, their authority advances, along with their titles. They may not fit your persona today, but it's likely they may in four years when the next cycle comes around.
Here's a great example: 77% of millennials hold positions in B2B companies of director level or higher today. How has your brand messaging evolved to address them? It's hopefully a given that your demand messaging has done so. Knowing our buyers is part of the gig.
So not only do you need to seed awareness for future buyers but engage those who are currently in market. They won't look or act the same when the next cycle comes along. Relevance is an imperative. And it's not defined by brand or demand independently.
B2B buyers are both emotional and rational.
The thinking seems to be that brand marketing is emotional and demand marketing is rational. Gosh, I hope not. You need both. Yes, buyers must evaluate value, ROI, TCO, implementation, the likelihood of achieving desired outcomes and other more rational factors, but if they aren't emotionally involved, you'll lose the deal—or it will stall because they won't have the confidence to advance.
Close the Gap Between Brand and Demand
To close the gaps between brand and demand, your overall marketing strategy needs to come from your buyers and customers and tie back to your brand values, positioning, and objectives. I'll make a plea that you start with personas and then tie what they want back into what your brand stands for. Then you can look at how your positioning feeds a story that's relevant to your market.
Brand and demand are simply two facets of your go-to-market strategy. It's aligning the overall story that focuses on your buyer as the hero (buyer-first) and showing how your brand's mission and purpose will get them the outcomes they want and need.
Don't split your budget and create silos. Swirl brand and demand together for a more compelling, consistent, and relevant story that covers the bases—at whatever stage buyers, prospective buyers, and customers find themselves.
After all – there's no way to ensure that those out-of-market only see brand marketing. Or that those in-market only see demand marketing. So, I argue on the side of simplifying where we can to create that smooth story with invisible transitions – compelling, contextual, consistent – throughout.