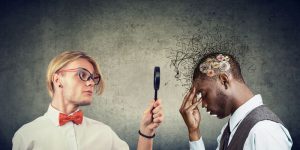 What happens when something goes wrong?
In B2B marketing and sales, we talk a lot about our buyers' pain or need. But that's not what really defines a problem.
The dictionary definition of problem is, "a matter or situation regarded as unwelcome or harmful and needing to be dealt with and overcome."
There's wiggle room in that definition. It doesn't mean buy something new. At least not as a first course of action.
Let's work through it > an unwelcome situation could invite a variety of responses, including:
Ignoring it and hoping it goes away
Asking someone else to deal with it
Trying to change it, rather than fix it – make it more "welcome" by modifying the process or the technology, or shifting direction to avoid the problem as it's perceived to be
Ranking it less important than another priority, delaying direct response
Whereas, a harmful situation is more dire, which could mean:
Stopping the situation without replacement
Soliciting internal ideas about response
Try to find a workaround within internal systems
Convincing yourself and other stakeholders radical change (buying something new) is necessary
Given the above, it's obvious that discovering a problem doesn't instinctively mean understanding it or buying a solution.
What do most of us do when confronting a problem? We search the internet for information to verify it's a problem, explore the depth and cost (not just monetary), find a workaround—the simpler, the better.
Once we're "informed," we talk to colleagues or peers to bounce ideas around and get input and feedback.
We try some tweaks and wait to see if the problem resolves.
The last thing we want to do is go ask for budget that's unexpected. Or, if we're in control of the budget we're conflicted about what to give up if we need to go buy something.
But then our thoughts start swirling around the change involved in the fix. It'll upend our workflows, disrupt our team, get pushback—and oh geez, the business case. That all takes time, research and political negotiations depending on company culture.
Intent Data Can Be Misleading
Meanwhile, vendors who sell a product that could answer the challenge your problem presents have spotted you on their intent data radar. Yep, it was that afternoon of searching you did on keywords they're tracking. And, if you happened to visit their website during your information gathering, you're showing even higher intent.
Pretty soon, you notice display ads from a vendor you slightly remember from your search activity—as if they're stalking you wherever you go online. It's kind of like gum stuck to the bottom of your shoe.
But you've moved on for the moment. Something else pressing has taken priority and there are a bunch of things that need to happen before you can buy anything. Like that conversation with your boss…
It's likely you will search for options to address the problem in preparation for that conversation. Not necessarily in search of buying anything, but in exploring the depth of the problem, if others like your company are solving it, and the costs of the problem they've identified if it's allowed to persist.
How bad could it really get? Surely there's a workaround that's not too painful…
Yet, given what your digital behavior indicates, this is when marketers are looking to get you to raise your hand for a demo or take a meeting with a sales rep.
Do you feel it? The contextual mismatch? The irrelevance of that experience?
The Mandate to Help B2B Buyers with Problem Blindness
Even more importantly, what if you're oblivious to the true problem? But you haven't yet realized you're still looking only at the surface. Because that's all you "see" right now.
In a recent article, Robert Rose stated "I see wicked problems a lot in content strategy. One of the toughest is recognizing why you need to change when you can't see how things are broken."
Why would we think this doesn't occur for our buyers, as well?
Before your buyers can solve a problem, they must recognize they have one—and per the definition above perceive it to be unwelcome or harmful enough to require resolution.
How high is their pain threshold? Mine's pretty high. What about yours?
I'd also argue that the surface problem they see may not be the real problem—not the root cause. And, if they only fix the surface issue, they haven't solved the problem. This is when high-regret deals happen. It's also when we're doing our buyers a disservice by helping them buy a band aid when they really need surgery.
Or it's the cause of decision stall because your B2B buyer finally realized they weren't solving the "right" problem and have reversed to reassess their change initiative. This realization contributes to why deal cycles take so long. We think we're on the same page with our buyers, but we're both looking at the problem through a different lens.
The "aha" moment in this case isn't that moving forward makes sense but solving the initial problem we identified isn't going to get us where we need to go. So, buying stalls.
Drive Momentum by Helping B2B Buyers Understand the Problem
In the middle of fast-moving change, marketers (and sellers) need to be the voice of reason and meaning. We need to help our buyers recognize misguided self-diagnosis and correct course.
As we do so, we're meeting our buyers' criteria to:
Teach them something they don't know
Help them justify the fix
Validate our (our company's) expertise
Build trust in us and their confidence along the way
The trick is that it's not the best use of your sellers' time to rely on them to teach buyers about the problem. Nor do your buyers want it that way.
Part of the reason lead scoring and using intent data goes wrong is that it's focused on the number and timing of activity, more than the context of the engagement. The litmus test should be based on whether the buyer's engagement demonstrates they understand the problem—at the core.
But that means we must have buyer enablement content available to help B2B buyers reach that depth of understanding that qualifies them to move forward in their change process…toward buying.
We need content at all levels of assessing and clarifying the problem, its impacts, and the outcomes made possible by solving it.
Do you have this? And not just for top of funnel, but for those inevitable backward loops buyers make when new information arises to make them ask more "What if" questions…