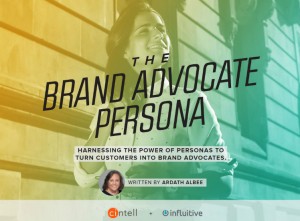 I recently wrote an eBook, The Brand Advocate Persona, about how to harness the power of personas to turn customers into brand advocates. [A big thanks to Influitive and Cintell for producing it!]
It occurred to me that perhaps the concept of the brand advocate persona might not be enough to convince you of its value – even though I included 8 types of business value in the eBook.
As additional food for thought, let's take a look at what you might need to build a convincing business case to earn the buy-in and budget to move forward with brand advocate personas.
3 Points of Proof to Build Your Case
Up first is amplifying the performance of your referral program.
Just as buyer personas should serve as the foundational element for demand generation programs, brand advocate personas should play the same role for customer-based referral programs.
Influitive joined forces with Heinz Marketing recently to research the value of B2B referral programs. The survey of more than 600 B2B professionals found that only 30% of B2B companies have formal referral programs in place, but take a look at the business value these companies have found:
69% report faster time to close (shorter buying cycles)
59% report higher customer lifetime value (more revenue)
71% report higher conversion rates from referred leads (more closed business)
Imagine reaping even more value from referral programs informed by a brand advocate persona. Relevance and value remain top priorities for customer involvement. You can't just ask and ask for referrals without providing something they see as worthwhile for their participation. Brand advocate personas can help to show you what matters to which segments of your customers that will motivate them to sing your praises to others like them.
Next, let's look at word of mouth powered by social media.
Human input is of high importance during a buying process. The 2015 B2B Buyer Survey conducted by DemandGen Report found that 73% browse discussions on social media sites to learn more about a topic they were pursuing. Thirty-eight percent of these buyers also asked for suggestions and recommendations from users on sites such as LinkedIn and Quora.
The report shared this quote from a respondent, "It's easier to go back channel via LinkedIn to get peer input on products or agencies." Twenty percent of buyers said that peers were one of the first three informational sources they turned to when they started researching a solution.
The brand advocate development process will help you understand which types of social media a segment of your customers uses to interact with their networks. If you've built buyer personas, you should be able to match up these interests to encourage better connections between your customers and your buyers.
And, with this knowledge in hand, you can direct your brand advocates to pertinent conversations they may choose to participate in, as well as to provide them with appropriate and valuable content they will be proud to share. It's interesting to note that only 25% of buyers said they did not use social media during their buying processes. Times have definitely changed.
Now let's look at customer experience and retention.
Research conducted by The Economist Intelligence Unit earlier this year found that 75% of marketing executives believed they would be responsible for the end-to-end experience over the customer's lifetime within the next three to five years. Interestingly, 63% of them define "engagement" as customer renewals, retention and repeat purchases.
With more B2B buyers looking to peers for input and recommendations, part of the consideration process is also related to their perception of what it will be like to be your customer. Using a brand advocate persona as an underlay to customer retention and experience programs can also be an effective approach. This persona can help you to identify which of your customers are most likely to agree to be featured in case studies, provide testimonials, and even appear on stage with you at a conference or on a webinar about their experience with your products or solution.
While the basis for customer retention is helping your customers find more value than they believed they purchased from you originally, enrolling your best brand advocates to evangelize their experiences reinforces both the decision to buy, as well as the decision to stay. By showcasing the value others gain using your products, you'll show your other customers how to get value they may have overlooked in the way they use your products.
We all know it's more efficient and cost effective to retain customers over acquiring them. But for some reason there's a disconnect in how much attention marketers pay to retention. This is likely due to the lack of objectives tied to customer metrics reported by only 48% of marketers surveyed. Futhermore, there's work to be done. Only two percent—15 of 750 companies surveyed—were ranked as top performers for beating revenue objectives, being very effective at managing the end-to-end marketing lifecycle and estimating that more than 90% of their customers are happy.
If marketing is truly going to become responsible for the end-to-end lifetime experience of customers in the coming years, incorporating brand advocate personas into the end-to-end strategy would be a wise choice.
It doesn't hurt that it's easier to see how "engagement" (as defined above) results in revenue. This is a proof point more marketing organizations are being challenged to provide.
So, as you ponder the value of brand advocate personas, I hope these three points of proof will help you understand the upside, as well as potential applications that brand advocate personas can be used to inform. If you don't yet have a copy, go download The Brand Advocate Persona ebook.