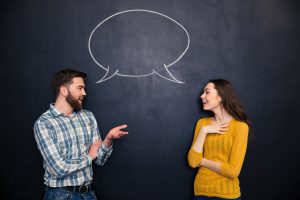 Marketers say one of their biggest challenges is creating content that engages and compels their buyers. The future will not only depend on engagement, but on continuous, content-driven conversations that result in buying decisions in your favor.
Buyers say there's too much content and much of it is too hard for them to understand, delaying their buying process, and often their decisions.
Given that Forrester finds that 62% of buyers say they can develop selection criteria or finalize a vendor list based solely on digital content, marketers must use technology to effectively grow engagement with buyers. Marketing automation can help to orchestrate buying conversations and get salespeople in the conversation at the right time—if you use it as more than a glorified email blast tool.
Content-Driven Conversations Rely on Nuance
The job of content is to deliver a captivating experience, not just a communication. The prevalence of marketing technology has made it easy to push ideas that marketers want to share, regardless of whether those ideas are what our buyers want to hear. But, as more content floods digital streams, buyers have gotten more selective. If your content isn't relevant, it isn't read.
To level the playing field, marketers must focus on personalized and connected messaging—and they must do so competently, consistently, and at scale. It's no longer enough to share an idea that piques interest but is so high-level that there's nothing to do with it. Rather, we must tune in to the nuance that allows content to resonate. Content must be constructed to link ideas that build the story from problem to solution—and bring the buyer along for the journey.
Dry content won't cut it. What you need is content that drives buying conversations. To do that, marketers must look at what makes for a compelling conversation. Essentially, that means a dialogue that's all about your buyer and their perspective in relation to the problem at hand.
This is where nuance comes in.
An easy example is to look at the information you're sharing in terms of depth. For example, you could say that "doing X will result in increased productivity." But that's an ambiguous statement and not bound to elicit excitement or the curiosity your buyer must have to want to know more from you.
However, if you say "doing X will allow your workforce to cut 5 steps out of a 10-step process, allowing them cut response time to service tickets in half," those details will cause your buyer to sit up and ask just how that works (if your buyer is in charge of the help desk, for example).
And that's what you're looking for: the nuance that drives the next engagement to keep the conversation going.
Use Marketing Automation to Increase "Turns"
Conversations are about "turns." I take my turn, you take yours, and so on. A dialogue is a two-way exchange. Without the back and forth, there is no conversation. I'm sure you've noticed the uptake in messaging applications.
Marketing automation is the foundational solution in the Martech stack for many B2B marketers. And automation is the key to content programs that can scale. So, let's look at them in the context of conversations. If we're trying to keep the conversation going, there features in marketing automation that can help: two of them are triggers and dynamic content.
In the example above, I talked about how you need for your content to elicit excitement and curiosity in your buyer for them to want to know more. Given that's the takeaway we wanted to produce from that content, the next question the buyer likely has is, "Okay, so how does doing X work?"
If you've applied triggers, your marketing automation system would automatically send the answer to that question (content) to the buyer who just read the content that had them raise the question.
If you don't have marketing automation, you can simulate a trigger by adding a link to the next piece of content at the end of the piece or in the sidebar adjacent to it.
The idea is that no content should be a dead end. For triggers to work you'll need to have a strategic content flow that discusses the nuances of what your buyer cares about and understand how that conversation (Q&A) builds the story from problem to solution. And, of course the content that answers those questions. The objective is to continue the conversation to help buyers learn what they need to know at their pace—hopefully faster than your "touch-every-3-weeks nurture program can get them there.
Dynamic Content Answers the Quest for Instant Gratification
Have you ever landed on a vendor website and not known where to look for the information you were after? Nothing seems relevant to you. Yet you click around for a bit hoping to stumble across something helpful… You're nicer than most buyers.
Google has trained buyers to hit the back button when the search result clicked on doesn't yield the right content. You click "back" and then move to the next result on the list hoping to get what you want.
Dynamic content can solve this problem by serving up content based on the user coming to your site. Through reverse IP lookup, the content served can be personalized to the company employing the website visitor. Or, if the user is "known" (a contact in your database), the content can be personalized to them for higher relevance.
As they say, you only have one chance to make a first impression. Dynamic content helps to ensure the content your website visitor views resonates right away and invites them to engage and explore content developed to address their industry and the problems your product solves for those who work in it.
Invite Sales to Step into Existing Conversations
Whether your buyer is engaging with your content or your sales rep, the expectation is a continuous conversation. Achieving content-driven conversations requires a strategic approach. A conversation is like a puzzle with each piece connecting its information to the others in a way that adds context.
When you orient your content-driven conversations to problem-to-solution journeys, it's easy to enable sales to step into that conversation without a hiccup. Your marketing automation has synced the buyer's behavior and engagement with their CRM record, so the conversational history is clear. Forrester also found that 72% of buyers say that sales reps need to continue the conversation started with messaging and content. Content-driving conversations have a thread of context that makes them easy to follow and continue.
Like triggers, if you've laid out the full story of the problem-to-solution journey, the sales rep can send the next piece of the story as follow-up to the human conversation they've had with the buyer to orchestrate further progression toward that prized buying decision.
Originally published on the Salesforce Pardot Blog