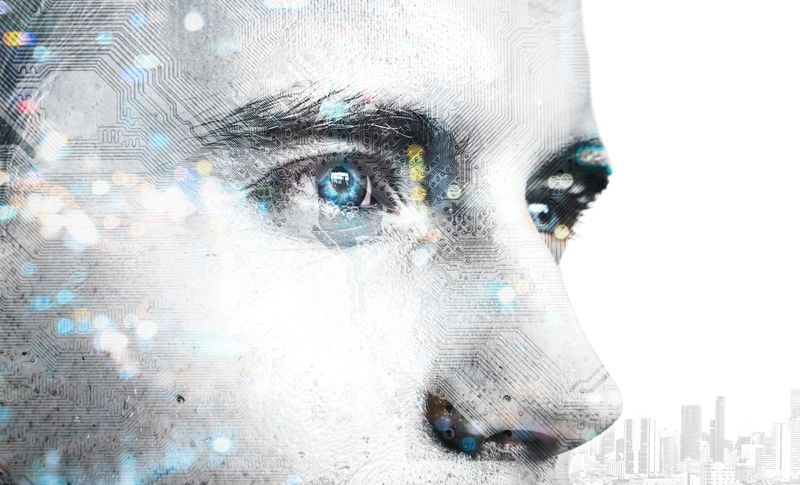 What is it that puts the humanness in business experiences?
A recent study from researchers at the University of Florida found that it's not the question of whether people prefer a chatbot or an exchange with a human, but rather the perceived "humanness" of the interaction.
In the study, people interacted with either a chatbot or a human, but 37% were unable to distinguish whether the interaction they had was with a human or an AI-driven machine. "If people felt like if it was human—either with really good AI or with a real person—then they felt like the organization was investing in the relationship." Because of that perceived investment, people developed more trust in the organization.
The point is that to be more human—which results in building trust—requires that our audiences "feel" the experience is human—not that it actually is human-to-human. Think relatable, relevant, and empathetic. This is a huge opportunity for how we develop humanness in B2B content experiences.
We can start by dropping the jargon and the "scripts" of how we think marketing and sales content should sound and just talk to our B2B buyers like the professionals they are—as people. Help them perceive the humanness of us as an organization. There are people behind that logo, right?
Perception is the Linchpin for Humanness in B2B Content
First – let's look at the influential power of perception. Perception is based on how we interpret our world, how we are conditioned to understand it. Therefore, my perception may not be your perception. It's also the reason that 63% of the participants in the study were able to discern whether they were having an exchange with a person or a machine, while 37% could not.
Marketing is all about perception. How we want people to "perceive" our companies goes to branding, positioning, messaging, and, most of all, our communications and content. The experiences we create for the public, our buyers, our customers all have an impact.
The closer you can get to your buyers and customers seeing your story as their story, the more humanness will be perceived as present in our content experiences. Storytelling reaches buyers on an emotional level and holds their attention. Buyer-first experiences make an implicit promise to deliver meaningful interactions considered valuable enough to command your buyers' time—without regret.
In other words, if your content sounds like marketing, you're giving up points for trust. Marketing "speak" sucks the humanity out of content. It's also devoid of authenticity—which is a critical factor in the perception of humanness.
Think of that content as messaging karaoke.
Note > I'm shamelessly appropriating this term from Ann Handley because it sums up the drab, repetitious, blah, yada, blah of too much marketing content.
If your content doesn't represent a unique point of view that resonates with your buyers and strengthens your brand, you're just mimicking whatever they can hear elsewhere. And the perception of humanness in B2B content you're counting on to build trust evaporates. Poof.
Don't Confuse Personalization for Humanness
As the quest for personalization increases, B2B marketers are told they must focus on the people, not the company. They call this H2H or Human-to-Human B2B Marketing. If only it were that simple.
Instead of thinking about personalization as cannibalizing your buyers' personal data (demographics), think about what they care about in relation to role and industry. Think about how they might "feel" about the situation/problem they're confronting. Perhaps the best way for B2B marketers to use personalization is to focus on empathy.
Help your buyers care because you've nailed their context with a relevant message, and you'll get much farther. A relatable message is perceived as human—as demonstrated in the chat-bot study above.
Create Experiences that Invite Participation
Do you still receive emails from a "do not reply" sender email? I do.
What about when something goes wrong on a website and there's no easy way to ask for help? I went through that last week. It was frustrating – so much so I abandoned what I was trying to do.
Today that's like waving a red flag in front of a social media share button to rant about their poor experience and frustration, calling your brand out by name. Not the kind of participation you want.
When you think about participation, consider how to get buyers involved in your content. This doesn't necessarily mean they have to "do" something like take a quiz or assessment or use an ROI calculator. It could be choosing a pathway of learning to delve deeper into a topic. Or it could be experiencing the emotional pull of being understood and seeing themselves as the hero of the story you're telling.
Buyers want to be active participants in their buying process. They don't want to be pushed or bullied down the fanciful funnel you've constructed that has nothing to do with the jobs they need to complete to be able to make a buying decision.
There's an art form to the "hands-off" B2B content experiences that buyers are demanding as they self-educate. Getting this right is dependent on how well you know and understand your buyers. Since buyers admit to only spending 17% of their buying process involved with vendors, yet the number of interactions they have during buying is up to 27, you need to gain participation (think engagement) to keep them involved with your expertise as they work to solve the problem at hand.
Even more critical to recognize is that self-guided interactions are outpacing personal ones by a ratio of 55/45, per Gartner.
Humanness in B2B Content Pays Off
The payoff in creating the perception of humanness and inviting participation is that buyers will recognize the investment you've made to understand them and when that happens—as in the study above—trust grows.
When trust grows, your buyers gain the confidence they need to qualify themselves and invite a conversation with your sales rep. And that's one of the best returns on the investment you make in content available in a B2B complex purchase.