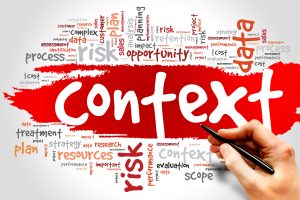 Content marketing has been an ongoing practice for B2B marketers for more than a decade. Marketers are spending a boatload of money, time and effort producing and distributing content to their audiences. But for many buyers, the B2B content they encounter is out of context.
B2B Buyers say:
Give me messaging I can understand
Provide substance over style
I want insights that help me see things relevant to me in new ways
Get rid of the sales pitch and marketing fluff
B2B Marketers say:
Our personalization efforts are mostly ineffective
Our content is not helping us reach our goals consistently
We struggle to create compelling content that engages our audiences at every stage
B2B Salespeople say:
It's like an archeological dig to find content that's relevant to buyer situations – if that even exists
If we can find it, we're not sure it's current and up to date
How do we use it to help us win more deals?
Lack of Context in B2B Content Kills Engagement
Some of the reason for this disconnect could be found in research done by Corporate Visions that finds 58% of brands message the same to a new logo as they do to existing customers. Even if we look just at demand generation, marketers say content is much more effective in the early stages than it is at the mid and late stages of the buying process.
Yet they're using it for every phase of the customer lifecycle. No wonder effectiveness is lacking.
Something is missing. That something is context.
Of course, it's truly difficult to nail context if you haven't done the work to understand your buyers and customers at different points in the life cycle. Assumptions are clearly not working.
To keep this simple, I posit that every time a buyer or customer interacts with your content, their context shifts. If not, it should.
What did they learn from engaging with that content?
What new questions or curiosity did the information uncover for them?
Did they do the one thing your content asked of them? (If you're asking more than that—or failing to ask for a next step—rethink!)
3 Context Shifts Your B2B Content Must Embrace
There are many nuances to context, but let's look at three of them at core stages of the customer lifecycle:

As the stage of the lifecycle shifts for your buyers and customers, so does what they're looking for in your content.
Marketing:

What to change

Why to change

How to change

Sales:

Challenges to overcome

What's possible / Future Vision

Mitigating risk

Gaining consensus

Customers:

Implementation

Driving adoption

Realizing continuous value

Account expansion

Advocacy
Let's look at how shifts in context build the story of change for your buyers.
Marketing Content: Educational content that primes buyers to recognize the problem; the value of solving it; and what that might look like for them. (not just anyone – the audience you're engaging)
What to change – content that defines the problem and helping folks recognize it's a problem
Why to change – the value of solving the problem that they can't get without solving it and the cost of not solving it. Why change content sets up the future vision. This is also a great format for thought leadership content from your company.
How to change – options for solving the problem that help your buyers see a clear path to getting the outcome you/your solutions promise – with as little risk as possible. You also must help them see that they cannot fix the problem internally, or they'll not move forward.
Sales Content: Evidence content that supports sales conversations to help buyers act, get everyone on board and mitigate risk of disruption with making the change. Sales content must support and enable change management and help sales reps have better, more relevant conversations that add value for buyers.
Challenges to overcome – content that helps buyers overcome obstacles and pushback – their own, or that from others, or legacy systems and fears of disruption.
Future vision – content that builds off the vision marketing helped establish – continuity content that reinforces the value they'll realize with the problem solved. Content that reinforces the purpose story of your company and solution and elevates your brand beyond "vendor" status. Thought leadership content also plays here.
Mitigating risk – an extension of challenges content that exposes the cons your buyers could encounter and proves that you've got their back, have been there, done that and can help them come through unscathed. Case studies, use cases, implementation stories, references, reviews all contribute to mitigating risk and help your sales reps have those difficult conversations.
Gaining consensus – often this is content for those stakeholders that you won't have direct access to, or who only show up for the demo or vendor presentation. This is content sales reps can provide to buyers they can pass along to their boss or others to build awareness, trust and reduce skepticism when it comes time for them to weigh in on the decision. Done well, it can also be used help to deconflict the various information brought back by the buying committee that stalls deals—sometimes permanently.
Customer Content – transformational content that facilitates implementation, adoption, original use, unanticipated use, and continuous value realization. This content must be empathetic and in support of not only your end users (quite often different than buyers in a complex B2B sale) but the champions who will help ensure renewal and account expansion.
Implementation – this content must not only set the path forward to using your solution but set reasonable expectations for the process, including obstacles that could arise and how to avoid them. It should also show them how to best prepare for the implementation to accelerate time to value.
Driving adoption – content and programs that help all involved get with the new program. This content must establish value for end users and beneficiaries of the solution (whether hands-on users or those affected by the change). This is when train the trainer programs come into play, microlearning courses for quick wins, sharing user triumphs to encourage change, and more.
Realizing continuous value – content, outreach and programs that ensure your solution becomes a habit and delivers what was promised. Help to drive feature and function adoption and continuously provide tips, tricks, training and support to ensure it becomes a relied upon tool in your customers' arsenal for the way business gets done.
Account expansion – this content is all about exposing your customers to new use cases and additional value that's now possible because their original problem (the reason they became customers in the first place) is solved). The idea for additional value shouldn't come out of the woodwork because your company decides it needs an additional revenue stream, it should be a matter of course that strengthens relationships, not feels like it's all about what you want.
Advocacy – content that builds community and inspires your customers to speak out on your behalf in the form of reviews, referrals, testimonials, case studies, speaking at company events, participating in advisory councils, and telling their networks about why you're the best choice for solving the problem. Creating advocacy is the best way to ensure your customers have a stake in the ground in the success of your company.
If you look over this list from top to bottom, you can see how context shifts to build a continuous story over time that is all about your customers. The true value of this is that because it's about your customers and not you, you'll see higher success. Content can truly play an active role in facilitating the customer lifecycle from beginning to end.
Marketing is in the best position to enable this end-to-end story and build alignment across product, sales, and service teams to create the consistency and reinforcement to share a story that continues to engage based on the context of the people involved—every step of the way.
Use Context Shifts to Transition Attention to Action
I heard a short video from Jay Acunzo in the LinkedIn Making Growth Happen series of short videos (yes, go watch them) where he said that content marketing has shifted from getting attention to holding attention – which is breathing new life into content marketing. As you consider how your buyers' context shifts as they engage with your content, the next step is to move beyond holding their attention to transitioning that attention into action.
As your B2B content helps them live the story of solving their problem, shifting context in line with what they learn will help you help them to buy from you to solve their problem. And stay with you because it wouldn't be in their best interests to switch.
Isn't that the point?