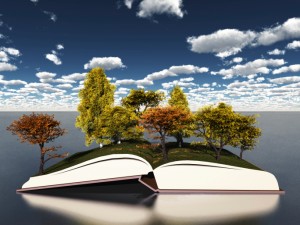 B2B marketing has an obsession with quantity. Quantity of leads has been a driving force of marketing for as long as I can remember and now it's coupled with volume of content. The number of views, likes, and shares are still key metrics. In other words, the focus is on quantity. The quest for scale for content marketing is duly noted, but I urge you to consider that it's not about volume, but reliant on your ability to scale the story.
In the content marketing arms race, the ability to publish often, publish fast and publish more has overwhelmed our sense of purpose. Where's the meaning? Where's the progress in understanding our buyers and customers? Where's the performance and accountability tied to business outcomes?
There's been some interesting research of late about volume.
The first one is the Content Ideas report published by Kapost. I found the report really interesting and even more validation for the need for a content strategy – which respondents to this survey agree. With 377 respondents to the survey, Kapost learned that one in two marketers say they don't have enough ideas to fuel their content operations. But, even more concerning is the estimation by marketers that they need 67 content ideas every quarter to be successful. That's about 1 idea every day.
What I can't figure out is why they don't have enough ideas. If marketers have created well-researched personas, they should have all the ideas they need for quite some time. But not just random ideas, ideas that feed a story that aligns with all the touch points across the continuum of the buying experience and customer lifecycle. Although it's telling that only 36% of marketing managers say they have a good process for idea generation.
Committing random acts of content because someone had an idea is not a strategic approach grounded on business goals. This said, I do agree with the 2/3rds that say content is fuel across all channels. But the choice must be made between crappy fuel and high-octane fuel. Unless, of course, marketers now have quotas for quantity of content produced. And I certainly hope that's not the case.
The second trend that confirms that volume of content is not helping marketers achieve better results was discovered by TrackMaven in the report The Content Marketing Paradox: Is More Content Really Better? Just note a few of the key findings:
Across 2013 and 2014, the output of content per brand increased by 78% but content engagement decreased by 60%
Brand-generated content is seeing the lowest engagement rates now than at any time in 2013 and 2014
43% of professionally marketed blog posts receive fewer than 10 interactions
Those findings are frightening. But they also line up with the statistic that's been floating around that indicates the majority of content goes unused – whether by sales or by anyone else. There have been horror stories about content audits where it's been found that only 10% to 20% of the content on major brand websites was ever viewed. Clearly volume is not the answer.
Ideas Abound Where Trouble Resides
The reason I return to personas as the root of greatness in content marketing is that only by having a true understanding of your buyers' situations, needs, responsibilities, and challenges can you produce relevant content capable of addressing context with meaning. If you understand where the trouble is – why they can't achieve their objectives – at the caliber they need, there are many ways to spin new ideas. And, with that criteria as the base, there will be no random acts of content.
I write fiction as a hobby. I've studied it extensively. I also have a degree in English. One thing I've learned is that conflict and tension are drivers for the suspension of disbelief that allow people to make the story their own. That's what it takes to sustain attention and get people to ingest the story and ideas you're sharing with them. If everything is going swimmingly for the hero, we're not interested. It's the "trouble" that draws us in and creates anticipation for what comes next. Will the hero succeed? That's what we want to know. That's what keeps us turning the pages.
Stories in B2B marketing are no different. The hero is your buyer. The trouble is the problem he or she is trying to solve.
What don't they know that can help?
What possibilities should they pursue?
What's the vision for the future that makes it worth the effort and risk to fix/remove/vanquish the trouble?
What expertise do you have that can help them get there?
What are the industry trends that make solving the problem urgent?
What will happen if they give up?
There are all kinds of questions you can throw at trouble if you truly know your buyers' perspectives. The way you answer those questions are the ideas or premises for content ideation that will scale the story. With the problem or trouble as the pivot, the story will connect and the focus will remain where it should be – squarely on what's relevant to your buyers.
If you focus on scaling the story, not the volume, content ideation will proliferate providing fuel across channels as well as the buyer engagement and momentum toward purchase that content marketing is capable of producing when done well.