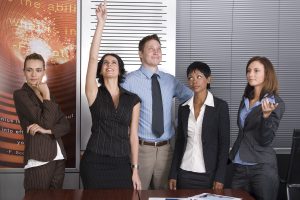 In a lot of the conversations I have with B2B marketers, many are overwhelmed when confronted with how to build truly actionable buyer personas. Building actionable personas takes a fair bit of time and effort.
It's also because buying committees are expanding. And along with that, so is your persona project.
But, does it need to?
In my previous post, I discussed how to determine the which B2B buyer personas you really need. In this post, I'd like to share why you should consider persona types to apply effort in consideration of the persona's impact on buying.
In other words, if a persona represents a role that isn't involved all the way through the buying process, is it worth your time to build a full-blown persona designed to inform your content marketing strategy across the entirety of the buying process?
I say no, it's not. Effort should be in line with payoff.
3 B2B Buyer Persona Types
Primary Buyer Persona
Your primary buyer personas portray the decision makers and champions involved across the entirety of the buying process. These are the people who will also become the vendor point of contact with your sales reps. The people in this role must also be someone marketing can reach.
Your goal with this persona is to get them to buy.
Mini Buyer Persona
The mini buyer persona format is used for people who get involved during the buying process for a specific purpose. This could be for some stage of the evaluation process (think IT vetting for security, for example), due to periphery impact (their team will be affected in some way), or it could be another influencer.
Mini buyer personas are designed to focus on those who are not buyers, but if they say no, can derail the deal.
Your goal with a mini buyer persona is to get them on board, in consensus with the decision to buy.
Tertiary Buyer Persona
A tertiary buyer persona sits at the edges. It could be your primary persona's boss, or she could be an influential C-Suite executive. This person is not likely to be in your database or to pursue learning about your company and solutions on their own. It's likely that this persona will be fed information by your primary persona. If this persona says no, the deal is most likely not going to happen.
Your goal with a tertiary persona is to understand them well enough to create content that speaks to their vision and strategic goals so you can build awareness and trust for your company. The last thing you need is for them to be unfamiliar when your primary persona presents the business case and have to back pedal to build enough confidence to mitigate any risk perceptions that stall the deal.
How Do Persona Types Differ?
I've laid out what should be included in a primary buyer persona here, so let's focus on the other two.
A mini buyer persona is a scaled back version of a primary persona. Rather than focusing on learning about their full buying journey, focus on their abbreviated role in the purchasing process.
Make sure you have a solid understanding of the following:
When they are involved, during what stage(s)?
Who brings them in – is it your primary persona, or someone else (maybe the tertiary persona?)
Why are they brought in?
What criteria are important to them?
What questions did they need answered?
Where did they get their information?
What would have had them say "no" to the solution?
What conflicts had to be resolved to get them on board?
Armed with this information, you can focus your team's efforts on creating the content that will be truly useful to them and that will have the strongest impact on getting them to consensus with the group.
Tertiary personas are usually reserved for upper-tier executives or CXOs. They aren't likely to take a call to be interviewed for your persona project. However, they are also the business professionals interviewed the most, who participate in round-table discussions, speak at conferences, write articles published on LinkedIn, in industry publications, or Medium.
If you know where to look, the level of insight you can glean is quite good, including understanding the words they use to describe their perspective about objectives and challenges.
The content you'll use to engage tertiary personas will need to be focused on strategic insights and thought leadership topics to get their attention.
Foundational information to collect includes:
Trends they pay attention to
Vision for the future
Challenges they discuss
Concerns they have
The tertiary persona is the only persona that I think can be based on straight research and input from your sales team who have interacted with them. Both primary and mini buyer personas must have customer and/or prospect interviews to learn insights verbatim.
Focus Helps You Gain Efficiency and Effectiveness for Buyer Personas
I've built hundreds of B2B buyer personas over the last 13 years. It's getting harder and more time intensive to get customers booked for interview calls. People are busy and you're not their priority. You need to be prepared and able to streamline the conversation to get exactly what you need when you get the chance.
For roles that are only involved for a short duration or a specific purpose during the buying process, it makes more sense to focus on exactly the information you need to engage them, be helpful, and make the right impression. Choosing to use persona types, rather than a blanket approach to building buyer personas will make the process easier and more effective. And you'll have just what you need to get the job done.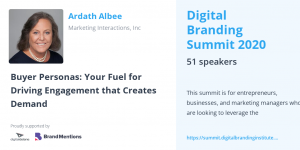 I'm also speaking about this topic in my session at Digital Branding Summit.
My session is live today, at 9AM PST. I hope you'll join me.
Or buy an all access pass and gain access to my session and 50 others on-demand.