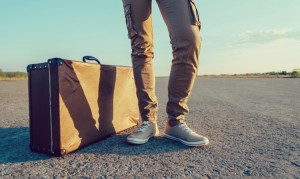 B2B marketers have been struggling with creating engaging content, creating enough content and improving content marketing effectiveness ever since content marketing became the new sliced bread.
There are many surveys and reports that tell us so. Year after year, per this same research, we're getting worse, not better. Something is wrong with this picture.
See if any of these situations ring true for you:
New content is published at an alarming rate more for the sake of publishing than adding value for your audience
We're still planning content marketing based on once-and-done campaigns
We keep shifting our "strategies" to try and force faster results (based on goals we want to achieve, not those of our buyers)
Once one campaign is over, that content is "dead" to us (Yes, I watch Shark Tank)
Chaos is the Nemesis of Effectiveness
B2B marketers who can answer yes to one or more of the above are promoting their own chaos. You're letting the tail wag the dog, so to speak. Each of the four situations above contributes to random acts of content that result in leaving content behind. Or said another way; creating content that deserves to be left behind.
Want to change this?
It's really rather simple. Stop thinking quantity and self-service and start thinking relevance, context and connections. This applies to both your content and your audience. It's a closed-loop system of thinking. Cause and effect.
More is not the answer. Better is.
What does better content mean?
Content designed to speak to business ideas that a specific audience cares about

Not high-level fluff, but content with depth specific to a persona

Content that speaks to audiences based on where they are in their ideation process

Is the idea just incubating?
Is the idea fully formed and they need to understand the value exchange?
Are they trying to build consensus for the idea with the decision committee?

Content that connects with other related content to build the story about the business idea –

It's potential high points and value
Possible disruption to adjacent systems and processes and how to manage for change in relation to the idea
How to move forward without stumbling
Options for executing on the idea
How others, like them, have done so successfully
When you build B2B marketing content with those 3 qualities, the result is a story that covers the continuum of the buying decision process. Content purposefully designed to motivate your target audience to take action to follow and use the ideas it shares.
This type of content is what gets traction. It's what helps to get your company onto short lists and your salespeople in conversations—early enough so they can still be influential and valuable to the decision process underway.
The Beauty of No Content Left Behind
Rather than creating, editing, producing, publishing and distributing content that will be barely read and quickly forgotten, embracing No Content Left Behind means that your relevance will skyrocket, along with your reach and impact.
For every content asset you develop, answer these questions BEFORE you invest in creating it:
Who will find this content valuable in relation to what business idea that's important to them?
What content do we have that comes before this asset and what will we develop to expand on this topic / story to link the assets together to build the big-picture vision?

If we don't have any related content, is this a story we can build over the long-term to align with what our personas / buyers will need in relation to solving a problem? What would that look like?

Once we know what comes before and after, how can we maximize (re-purpose) this content to create even more value in different ways?
How will we need to adapt this content to play well and match context in the channels our audience uses? Do we have the resources to do so?
The point to really understand is that B2B marketing content that has value for your company and your audience creates a pathway for forward momentum in the decision process. It is never "one-off content." When you put the concept of No Content Left Behind in play, every content asset you produce increases the impact and value of the other content it connects to. If it cannot do this—or have the potential to do this given a new story in process—don't create it.
The Real Point You Need to Get
When asked about goals for B2B marketing content, marketers categorize. I know it's the way the research surveys ask you and the way marketing teams are structured, but we need to rethink this fragmented approach.
For example, content is either for lead gen or for lead nurturing or for building awareness or for sales enablement or for any number of other goals put in silos.
NO > Great content is better than this. Great content plays a role across silos. Great content fulfills the purpose of content marketing which is to build profitable relationships. It does this in the way it connects the dots, addresses context meaningfully and works together to drive that outcome.
Think about it.
You publish a piece of awareness content. Then what?
You entice someone to download a gated content asset. Then what?
You send an email with a link to an article. Then what?
You invite a contact in your database to attend a webinar. Then what?
All of your B2B marketing content needs to work together in harmony to create the answer to: "Then what?"
That's what No Content Left Behind is about.
How much content are you leaving behind? Where's the value in that?