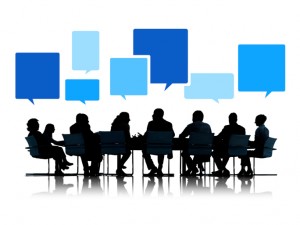 Last week, at Inbound Marketing Day in Atlanta, I heard Ted Wright, the author of Fizz: Harness the Power of Word of Mouth Marketing to Drive Brand Growth, speak about the subject. He's a compelling speaker and a great guy whom I'm glad I finally got to meet.
Listening to him talk about Word of Mouth (WOM) marketing and the techniques and projects he's worked on to drive awareness and outcomes by identifying and engaging people capable of influencing the right B2C audiences, got me thinking about the application of WOM in B2B content marketing.
Complex B2B buying decisions are made by committee. The average number of people involved in a B2B buying decision is estimated to be at least five. And I've seen it go even higher than that.
The thing is that every role or persona that plays a part on the committee is a multiplier for content marketing programs. Resource limitations and budget constraints, not to mention evasive personas, mean that B2B marketers must often choose their best strategic approach based on what they can do, and do well.
Let's say that your firm can only afford to produce enough content to realistically engage three of five potential buyer personas across the continuum of the buying process. That leaves two left unattended, but who are still critical to reaching consensus for the buying decision.
This is where WOM for B2B comes into play for content marketing strategies.
As an aside, I know that influencer marketing is thought to be based on external industry experts, but in B2B buying there is a component of "internal" influence that must be addressed.
WOM in the case of B2B buying committees is about using your content to influence the water cooler conversations, hallway conversations and meeting agendas among the people involved in buying committees. Think of it as a type of social marketing.
Back to our example: B2B marketers must figure out how to get the three personas they can reach to spread the word to the other two they can't. But, just as important is to determine how to put WOM in play amongst all the personas involved.
Some questions you'll need to answer include:
What are the relationships between the five personas?
Look at authority, but also look at how their roles and responsibilities intersect. Which persona's role is dependent upon another persona? Where do processes overlap or intersect? Does the successful achievement of objectives rely on the success of another persona?
Who influences whom – and in what ways?
Often an authority hierarchy play, but can also be based on longevity with the organization and having more personal clout behind the scenes.
Where do their perspectives conflict about solving the problem?
An example of this could be one persona who is focused on customer experience vs. another persona who is focused on backend processes. Each will look at how they solve the problem from a different angle. This may cause misalignment on issues that they must agree on to reach a decision.
Which ideas will be best shared in discussion between two of the personas?
You'll need to determine which commonalities make it most likely that one persona would approach another to share the ideas and expertise in your content. Consider which topics appeal not only to work responsibilities, but to professional aspirations. Those topics have an emotional component which will promote discussion and the desire to influence another persona's thinking in their favor.
When developing content that you intend to drive WOM, it's important to plant those seeds within the content. Tell them what another persona may need to understand in order to move forward with solving the problem or how their perspectives may differ. It's okay to suggest to them how they may benefit from initiating the conversation.
B2B marketers often think that prospective buyers will intuitively know what to do with content, but that's not necessarily true. After all, if your salespeople can't figure it out (up to 70% of marketing content goes unused) then why would you think that buyers who have even less familiarity with your company and products will automatically see the conversational opportunities?