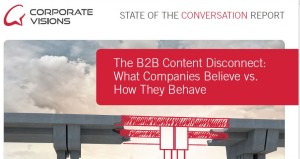 Corporate Visions recently surveyed more than 400 B2B organizations to find out how one statistic is creating challenges at the intersection of content strategy, sales enablement, and lead conversion. The result is its State of the Conversation Report.
The survey was based on the impact of this buzzworthy stat that surfaced a few years back:
Buyers are 57% of their way through their buying cycle before they interact with salespeople.
What Corporate Visions learned is that 78% of survey respondents agreed with the stat. With such a high level of agreement, you'd think that B2B marketers would be moving swiftly to impact and own that 57%—more than half—of the buying process.
But that's just not the reality. Only 24% say they've shifted the way they're driving conversations in their demand generation and sales enablement content strategies in response. And nearly half of them describe their lead conversion efforts as "sketchy."
What I find interesting about this report—and many other B2B research efforts—is that B2B marketing and sales leaders know what's going on, yet fail to adapt.
They know that company and product-oriented content is not the most effective, but they still produce as much of it as content focused on the issues and problems their buyers face. And they get that they need to be providing visionary insights that instigate and propel B2B conversation, but that content is developed the least.
This is the equivalent of taking the easy way out, yet expecting better performance and outcomes.
But what I really want this report to help marketing and sales practitioners come to terms with is the consistency gap. This gap shows up in a couple of ways and it's fragmenting your buyers' experiences and negatively impacting your results.
The report found that content used for both demand gen and sales enablement is created in different parts of the organization. While marketing is responsible for much of it, the fact that it's created in silos, without a coordinated and fluent orchestration must be addressed.
That only 29% of companies follow a well-established message development process for content points to why there's a consistency gap that's making it difficult to create fluency in the buying process from demand generation to sales enablement to conversion.
I've been preaching for the end of campaigns and a focus on the continuum of the buying process for quite some time. Heck, I wrote a book about it. And through client engagements, I also know it works.
Not only do you need the right kind of content to truly engage buyers around change at every step and stage, but it needs to evolve consistently across the buying journey—regardless of where we label it in our sales funnel.
You see, buyers just don't care whether the B2B conversation is initiated or upheld by marketing or sales. What they care about is how to not only solve their current problem with low risk exposure. But they also care about how doing so will help them gain advantages previously unavailable.
Download your copy of the State of the Conversation Report to see why we need to do the hard work.
It's not easy. But it is rewarding—and exactly what we need to do if we're going to see success with content as a B2B conversation driver at every stage of the buying process, as well as to prove contribution to conversions.